Summer Mindfulness Challenge – Week 3
Summer Mindfulness Challenge – Week 3
Finding activities that keep children entertained can be tough so this week's challenges are all about staying entertained through arts and craft activities. These might be activities that you've done before but I've added some questions and extensions to the tasks to make them even more mindful.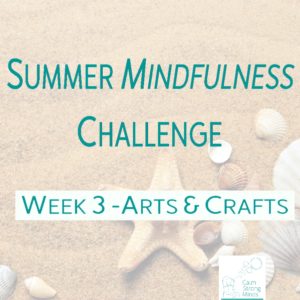 You can download a worksheet of all these activities here. Don't forget to record your reflections in your journal!
Colouring
Mindful colouring is so popular for children and adults alike. Find yourself a book or print out some of the free mandala outlines you can find online. Help to make sure that the colouring is mindful by always bringing the attention back To the picture. Ask questions about the picture, the colours, and how they are feeling as they do the colouring.
Stress Ball
This was a complete hit in our recent summer class. Using water beads, which are amazing by themselves, fill balloons and you're done! A top tip is to put the water beads in a bottle and squeeze them into the balloon. Use it as a focus for meditation or as a stress reliever.
Sand Zen garden
You can use anything you wish for your zen garden. Using a tray of sand (although could also use gravel or soil) add objects that bring you a sense of calm and happiness to create your own magical garden. For younger children you could make 'fairy gardens'.  Perhaps make this as a focal point for a guided meditation or mindfully tend to it perhaps using a small fork as a rake or by moving the objects around.
Making a nest
This is a lovely activity to do when you're out in the woodlands. Gather small sticks and twigs and arrange to make a nest then fill with whatever you think would make it comfortable! Leaves, feathers, moss. Perhaps you could go onto create a story about your nest.
Worry stones
This is a lovely activity to create a personalised worry stone which is ideal for using during breathing exercises or as a tool to help grounding when anxiety starts to get stronger. Take a small piece of saltdoh and form into a coin shape. Then press your thumb into it. Bake, colour and pop it into your pocket so it is there when you need it.  You can also make these with different coloured soft clay.
Whats the smell?
Your imagination really is your limitation for this activity. Get some shaker pots and fill with materials that have a lovely smell to them. Without your child seeing, ask them to smell each one and describe what they smell, and whether it invokes any feelings, thoughts or memories. Can they guess what it is? Examples of things you could fill the pots with are lemons, oranges, strawberries, chives, cinnamon sticks, chocolate buttons… the list really is endless!
Coloured Zylophone
This is great fun. Gather as many glasses as you can and fill with different amounts of water, then colour with food colouring. Then have a wonderful morning adding and removing water to create and play tunes!
I hope you have found some inspiration here for your mindful activities this week. Good luck with your mindfulness practices  and why not let me know how you get on by leaving a comment or posting a picture on social media using #calmstrongminds. 
See you next week!